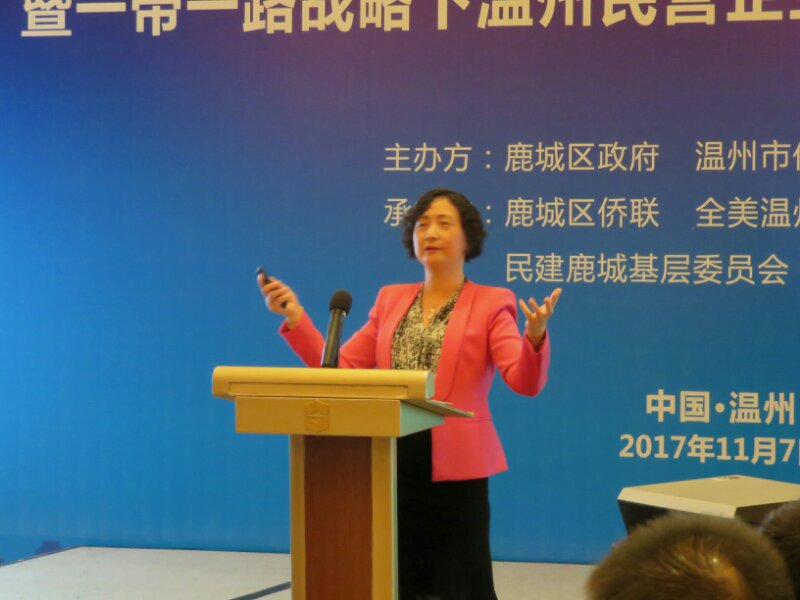 Wenzhou Lu Cheng Government hosted the inaugural forum on "Wenzhou global finance and manufacturing integration and globalization strategies of Wenzhou Private Firms" (首届温州国际金融与产业对接论坛暨一带一路战略下温州民企国际化发展路径研讨会 ) at Wenzhou Shangri-La Hotel on November 7, 2017. Professor Xiaohua Yang, Director of Chinese Business Studies Initiative, was an invited keynote speaker together with four other experts, including former assistant secretary of the U.S. Department of Commerce, Mr. Jannan Huang, World Bank data scientist, Dr. Lai Xu, Associate Professor of Economics Dr. Jia Xu from University of Maryland, and the Assistant Professor of Finance, Dr. Shengle Lin, from San Francisco State University.
The roundtable discussions after the keynote speeches involved many international and domestic experts and entrepreneurs in the discussion. They shared insights on the Wenzhou private enterprises' internationalization path under the "Belt and Road" strategy.
In her speech, Professor Yang emphasized that Wenzhou enterprises should leverage over 650,000 Wenzhou diaspora population around the globe, esp. those who are in those BRI countries, emerging industry sectors, global supply chains, and rapidly growing cyber digital businesses. She expressed her confidence in the potential growth of her hometown.