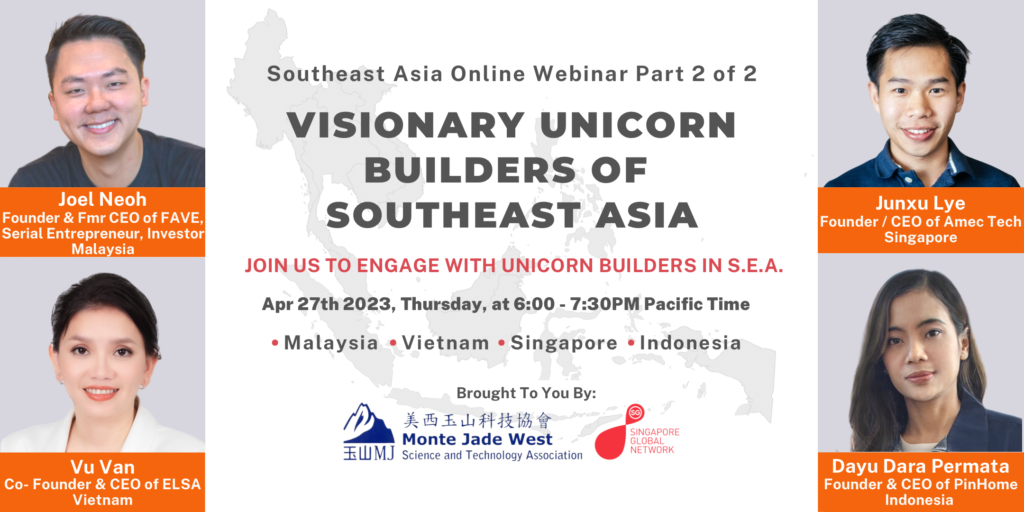 The GDP growth of South-East Asia countries is amongst the fastest in the world and global corporations are shifting their supply chains to South-East Asia. With over 450 million young internet users, South-East Asia has become a playground for entrepreneurs and investors.In our webinar, we speak with four proven serial entrepreneurs that have succeeded in building their innovative startups while navigating through highly diverse and challenged markets.
South-East Asia has many startups but few proven, sizable, and regionally successful technology companies like Grab, Shopee, Lazada, and GoTo. Why is this? What does it take to grow a regional technology powerhouse?
What are the significant challenges and opportunities in building a regional technology powerhouse?
How is building a tech startup in Southeast Asia different from doing so in the U.S.? How can U.S. technology professionals, entrepreneurs, and investors participate in South-East Asia's exciting ventures?
Monte Jade West and Singapore Global Network cordially invite you to join us in this upcoming webinar where our panel of unicorn builders would share their insights on these exciting topics.
RSVP here:
https://www.eventbrite.com/e/visionary-unicorn-builders-in-southeast-asia-tickets-534035172577?aff=SGN