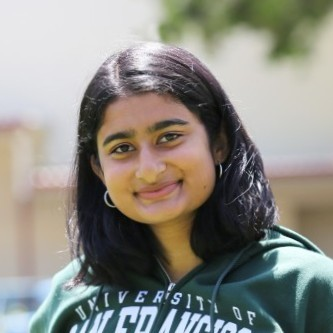 The China Business Studies Initiative (CBSI) announced the very first recipient of the Vivien Wang Scholarship Fund, Sanjana Sukumar. Vivien Wang is one of the founding board members and Advisory Board Chair Emeritus of CBSI. Her gift is meant to provide scholarship support to undergraduate School of Management students in the International Student Ambassador Program (ISAP), who are from underrepresented populations. These scholarship recipients will receive funding for global academic immersions, conferences, internships, and many other unique engagement opportunities within ISAP.
Sanjana is an incoming junior at USF with a major in Marketing, and a member of the Mclaren School of Management's Honors Program. Sanjana is heavily involved with the School of Management through her position as a student assistant, and this summer will be working as a Lifecycle Marketing Intern at the software company, G2. Sanjana applied for the scholarship in hopes to fund more distinguished internship opportunities similar to offers she has already received. "I am honored to be the first recipient of the Vivien Wang Scholarship. I applied for this scholarship in hopes of funding my internship ventures either in-state or out-of-state. In addition to internships, I plan on using the fund to seek out experiences such as conferences and/or events thrown by companies such as Apple, Google, Sephora, Fidelity Investments, Generation She, etc."
Sanjana recently joined ISAP in January 2022. She is excited about the unique and distinctive opportunities ISAP offers and is eager to become more involved. "I understand the qualities necessary to be an essential team member, and I am eager to further develop my character and expertise in the driven atmosphere that distinguishes ISAP." Sanjana has already demonstrated her commitment to ISAP as she has stepped into leadership roles for several ISAP events in Spring 2022.
With Sanjana's demonstration of commitment to the ISAP program, her academic excellence, and plan to use these funds to jump start her career, ISAP and CBSI have been delighted to award Ms. Sukumar the first Vivien Wang Scholarship.