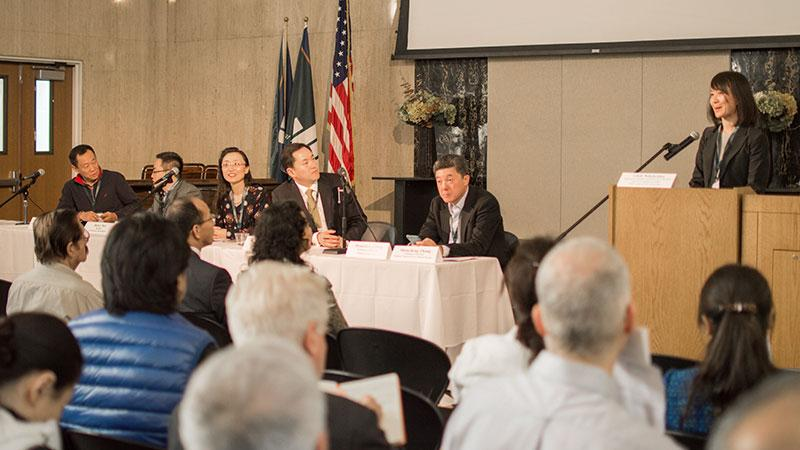 The University of San Francisco (USF) School of Management's China Business Studies Initiative (CBSI) together with GreenToGo and F50 Ventures co-hosted a forum on Chinese-Venture-Investingin the U.S. and Silicon Valley this past February.
Over 300 attendees, including venture and angel investors, entrepreneurs, USF and Stanford University scholars and students, gathered to learn about current trends in cross-border investments from China and gain insights on the perspective of Chinese investors.
With the Chinese economy changing focus from manufacturing to more service-oriented industries like finance, there has been a dramatic increase of direct foreign investments from China to both developed and emerging economies.
Shoucheng Zhang, founding chairman of Danhua Capital and Professor at Stanford University, spoke about how China's economic shift will require participation in the investment process from first-rate scientists and academics so they can conduct cutting-edge research and development in the sectors attractive to investors.
Zhang said China is still learning where to invest and will need assistance learning about the different types of startups and other aspects of the U.S. venture investment ecosystem.
Economic innovation in the Chinese economy was a recurring theme.
"Innovation is a main driver to healthy economy growth with great social impact and environmental protection is the way for Chinese businesses to go," said Yulin Xu, Strategic Advisor of GreenToGo and founder and CEO of Olixus Inc.
Panelists, many of whom received Chinese venture funds, also emphasized a need to develop a more systematic pipeline for Chinese investments in the rapidly changing tech sector.
Chinese Outbound Direct Investments (OFDI) and innovation are clearly on the rise and will continue to grow exponentially over the next decade in Silicon Valley and the U.S. as a key contributor to the U.S. Gross Domestic Product (GDP).
Public support for strengthening the investment ecosystem, which would include establishing reputed partnerships involving entrepreneurial networks, clusters of educational institutions, incubators, accelerators and investors, will ensure a lasting impact on the generations of entrepreneurs and innovators in both China and the U.S.
This forum was organized by USF professors, Dr. Gleb Nikitenko and Dr. John Gonzales and Mr. Jeff Wu, Co-founder and COO of ScaleFlux and a member of the CBSI Advisory Board.